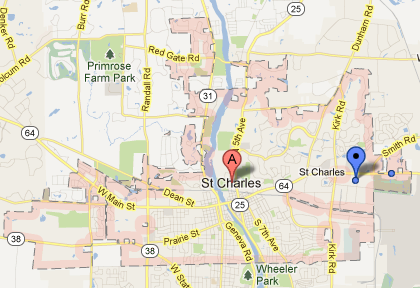 Leading Hvac Contractor A.W.E. has been proudly serving St. Charles, IL area residents for over 4 decades.  Because of this, our team takes great pride in providing unparalleled St. Charles heating and cooling services.  When you need any services on your key home systems, rest assured the professionals at A.W.E. have you more than covered.  Heating, Air Conditioning, and much more! Call our office today!
View Larger Map

St. Charles Heating, Air Conditioning Resource
For 4 generations, A.W.E. has been providing cost effective, high quality Heating and Cooling  work.
Our top services include:
St. Charles Heating and Cooling – Serving St. Charles for Generations
As a Chicago suburb in Kane and DuPage counties of Illinois, St. Charles is a city of 32,134 rich in history, specifically regarding the Civil War.  Several stations of the slavery-era Underground Railroad were in many St. Charles homes, complete with tunnels and hidden doorways.  There was also an open abolitionist group called the Kane County Anti-Slavery Society founded in 1842 with over 180 members.  St Charles is known for being rather diverse in its European immigrants, during the 1840s and 1950s, such as those from Ireland, Sweden, Belgium, and Lithuania.
Downtown St. Charles is also known as one of the region's "Top 10" by the Chicago Tribune for fine dining, arts and entertainment, recreational opportunities, and a bustling nightlife.  St. Charles also has been ranked #1 in Family Circle magazine's 2011 Annual Survey of Best Towns and Cities for families.  This survey took into account affordable housing, good neighbors, green spaces, strong public school systems and giving spirits.
With collections of print materials, DVDs, CDs, downloadable content, online research databases, and a genealogy collection, it is no surprise that the St. Charles Public Library is nationally ranked as one of the best libraries in the United States.  Tourists can also find two small museums in local historical buildings that are maintained by the St. Charles Heritage Center.  Full of historical resources and centers, St. Charles is the perfect place for history buffs.